The Northern Inca Empire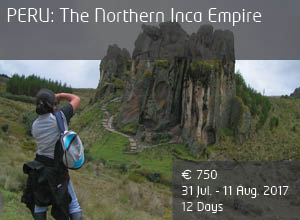 This adventurous journey with FairMail's teenager photographers leads you to the former Northern capital of the Inca empire stretching from Colombia to mid-Peru. During this tour you travel through the dry coastal strip of Peru and high up into the Andes Mountains. Each area has its own climate, landscape, nature and culture. One of the goals of this trip is to capture the diverse images provided and turn this beauty into a source of income for the FairMail teenagers! Because of its remoteness, the destinations on this trip are hardly visited by tourists. This also means an adventurous journey far from the beaten path filled with authentic picture moments.
The journey starts in the friendly fishing village of Huanchaco, where the residents still fish in the graceful reed fishing boats, a tradition that goes back many centuries. In Huanchaco you'll have the opportunity to get used to the Peruvian lifestyle. You can relax on the beach or take some surfing lessons. You can also have a look at the various attractions in the area, like the largest pre-Columbian mud city of Chan Chan, the former capital of the Chimu Empire or the various pyramid temples of the Moche culture. In Huanchaco you will also meet the FairMail teenagers and see how they live their daily life.
After two days of acclimatizing in Huanchaco we travel with the entire group from the desert into the Andes to Cajamarca, the former capital of the North Incan Empire. The city is situated in a lush green valley and apart from the remains of the Incan and Spanish architecture it also serves as a hub to visit nearby waterfalls, spectacular mountain formations and Inca remains. After that we travel on to the smaller village of Celendin to visit the weekly animal market, thermal baths and work on some photography exercises in this typical Andean setting. This place has an authentic beauty and that is just what we need for our pictures!
During our hikes we will learn more about the nature and the people who live there. Because the residents of this area are hardly in contact with tourists, you will soon be touched by their genuine friendliness and hospitality.
Read the full trip description here (pdf)
Questions? Just ask us!
Interested? Book your trip here
Included:
- Dutch and English speaking guide (founder of FairMail)
- All overnight stays in a shared room in hostels.
- All meals, except the first, second and last day in Huanchaco
- Transport during basic program
- Entrance fees during basic program
- Bus station or Airport pickup in Huanchaco
- Lunch meeting with the FairMail teenagers before departure
- Preparation Package
- Project contribution (€ 165)
Not Included:
- Flight to Peru (from Europe from 850 euro)
- Transport by bus or airplane from Lima to Huanchaco (from 20)
- Airport pick-up Lima (from 10 euro)
- 1 overnight stay in Lima (from 15 euro)
- Any (taxi) transport besides the basic program
- Food en drinks besides the 3 daily meals.
- Photography equipment
- Tips
- Optional tours around Huanchaco